Cuu Long automobile factory
CUU LONG AUTOMOBILE FACTORY
Construction started: 03/20/2003
Officially put into mass production: 21/02/2004
Date of inauguration: 05/29/2004
Total investment: 350 billion
Phase I: 180 billion
Phase II: 170 billion
The total construction area of factory premises ≈ 20 ha
Capacity:                     10,000 units per year (Phase I)
                                       30,000 units per year (Phase II)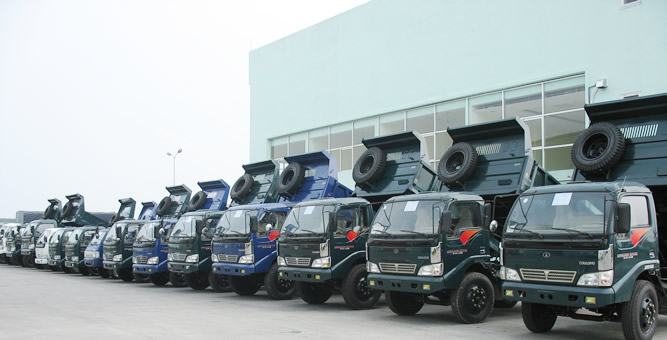 Production and assembly factory
CUU LONG AUTOMOBILE FACTORY, joins hands with the worlds leading automobile producers in manufacturing major auto-parts for the purpose of meeting ever-increasing consumer's demands. These great efforts have shown its consciousness and responsibility in the common development process of regional and international integration. For this very reason, TMT together with its Cuulong Automobile Factory has set out direction s to share and to maximize our contributions to meet market demand – accompanying you in fortune-making with Cuulong motors.
Factory shop in cabin car cabin Kowloon pieces are positioned on the standard equipment to ensure accuracy. Technology spot welding (welding press) to ensure robustness, consistency and improve the life of the product in the harsh climatic conditions in Vietnam. This is also the advantages of cars Kowloon. Delta automobile factory was designed and equipment investment, technology and media manufacturing and assembling automobiles under the advanced technology sector. Trucks are manufactured, assembled from clusters of components – CKD. Overall: engine, gearbox, propeller shaft, front and rear chassis … imported from foreign countries and sub-assemblies produced in the country, crates, the rhythm, tires, batteries, and wheel.
In paint shop, cabin bins are chemical treatment of advanced technology surface treatment, pickling and removing all the impurities grease … 100% of the tank, cabin are phosphate surface chemistry. At this stage, technology is applied to radically improve the life of metal, and is a preparation for primer and paint. Interesting stage paint (dry heat) is applied to both primed and painted
Simultaneously work with welding and painting lines there are two assembly lines and chassis cab. At the assembly line, the chassis is complete coordination with the principal assemblies: axle, engine, the tweezers, gearboxes, motion systems, steering systems…
Cuu Long automobile factory is equipped with modern assembly line and flexibility suitable for trucks load from 500kg to 10 tones. All joints of the important vehicles are checked by tightening force of specialized equipment at the time of tightening gun driven by compressed air.