Social Activities
In the current period, the evaluation of the enterprise's value and success is not only the evaluation of production efficiency and business benefit, but also the performance of social activities
For such a long time, BOD of TMT Automobile JSC, has considered participating in social activities , especially charity work , sharing difficulties with compatriot , developing the national traditions and the spirit of "mutual affection and mutual love", "the good leaves protect the worn-out leaves" and "drink water remember source"….. as one of the cultural features of TMT. 
For many years, our Company has participated in various social activities such as:
Funding to repair the Dong Loc crossroad Statue with the total cost of 200 millions VND.
+ TMT has funded to build two houses of culture for ethnic minority of Cuong Loi commune and Luong Ha commune, Na Ri district, Bac Kan province with entire of interior and equipment and the total cost of 1 billions VND:
+ TMT supported "fund for children's protection", Hung Yen province with 100 millions VND .
+ TMT also supported people in Middle region being affected by the storms in 2005, 2006, 2007 with 132 millions VND ; supported "fund for poor people" with 85 millions .
+ Supporting "fund for poor people" lauched by Bank for investment and development of Vietnam with 500 millions VND in Miss Vietnam 2008.
+ With the agreement of People's Council and People's Committee of Hung Yen province, TMT Company is promoting the Construction of bronze statue of the original General Secretary Nguyen Van Linh at Central Square of Hung Yen town, expected to complete in 2009.
In addition, TMT has served Mrs. Nong Thi Thap at Ban Po Hamlet, Yen Lac Town, Na Ri district, Bac Kan province – a revolutionary senior's wife, with 500.000 VND/month.
Some Images of the social activities: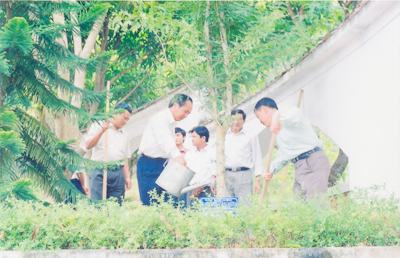 Chairman Mr.Bui Van Huu – plants a tree at Dong Loc crossroad 
Company's Leaders at House of Culture – Cuong Loi Commune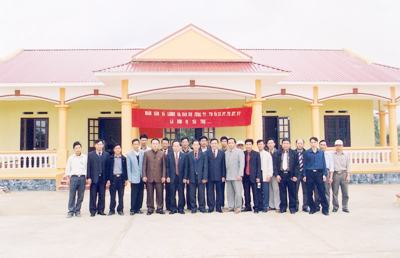 Company's Leaders with local authorities at the House of Culture – Luong Ha Commune.
With many achievements in production and business and social activities, TMT Automobile joint stock company has been awarded the third grade of Labor Metal by State Order in 2006.